The Best Chamomile Tea Brands of 2023
We include links to products we think are useful for our readers. If you buy something through these links, we may earn a commission.
Here's our process
.
For centuries, chamomile tea has held a place of honor on kitchen shelves, serving as a soothing elixir with a bounty of health benefits.
Derived from the chamomile plant, this herbal infusion is celebrated for its calming properties, helping to reduce stress and promote better sleep. Moreover, chamomile tea can offer a gentle relief for various digestive issues, and its antioxidant properties are an added benefit to your overall health.
In the vast world of teas, we have swirled, sniffed, and sipped our way through dozens of chamomile brands. Our goal? To bring you the best chamomile teas of 2023, rated on the quality of the tea, intensity and flavoring, and brewing convenience.
Here are the best chamomile teas on the market:
Best Overall:
Teatulia Chamomile Herbal Tea

Jump to Review
Best Organic Chamomile Tea Bags:
Art of Tea Egyptian Chamomile Eco Teabag Sachets

Jump to Review
Best Chamomile Tea Blend:
Teabloom Lemon Mint Chamomile Loose Leaf Tea

Jump to Review
Great Option Overall:
Traditional Medicinals Organic Chamomile Herbal Leaf Tea

Jump to Review
Great Option Overall:
Taylors of Harrogate Organic Chamomile Herbal Tea

Jump to Review
The 6 Best Chamomile Teas
Chamomile teas are not created equal. They vary in aroma, taste, and even in the tranquility they offer. The following are the crème de la crème of chamomile teas, each unique in its own way.
Teatulia Chamomile Herbal Tea Pyramid Bags is the perfect choice for eco-conscious and budget-savvy tea lovers. Each plant-based pyramid bag contains 1.2 grams of whole-leaf chamomile, directly sourced from organic gardens in Northern Egypt. The unique pyramid design allows the tea leaves ample space to infuse, enriching each cup with a vibrant, flavorful experience. Each bag can be brewed two to three times, bringing you more value. The light golden yellow brew offers a sweet floral aroma and calming notes of honeysuckle and sugared candy, making it the perfect caffeine-free choice. Packaged in environmentally responsible, compostable materials, this is a treat you can feel good about.
Pros
The chamomile tea has a good flavor and aroma.
It's sourced from organic gardens in Northern Egypt.
The pyramid bag design allows for efficient infusion and more flavor.
It can be brewed 2-3 times, providing value for money.
The packaging is environmentally friendly and compostable.
Our review staff and many real customers found it helpful for sleep and digestion.
Cons
The tea bags tend to float, requiring a weight to keep them submerged.
Some customers have noticed a decrease in quality over time, with the tea becoming finely ground rather than whole flowers.
Tea drinkers that prefer a stronger taste may find the flavor to be weak or not deep enough.
The tea bags lack a string, making it difficult to remove them from the cup.
We appreciate the refined tastes that Harney & Sons bring to their Chamomile Herbal Tea. Handpicked from Egypt, the premium chamomile flowers used in this blend lend a distinct body to this caffeine-free beverage. Each tin contains 20 sachets, each perfectly portioned to brew a 12 oz cup of comforting, light-bodied tea. The dry leaves reveal dark yellow chamomile flowers and pollen, which produce a bright, clear yellow liquor when brewed. The aroma is a delicate floral whisper, subtly hinting at apples. This apple essence carries into the flavor, yielding a mellow, sweet note in every sip.
Pros
The Harney & Sons Chamomile Herbal Tea is made from premium chamomile flowers sourced from Egypt, ensuring a high-quality product.
The tea is recognized for its calming effect, making it a good choice for those seeking a soothing drink.
The tea has subtle hints of apple flavor, providing a unique and enjoyable taste profile.
The packaging is thoughtful, with a reusable tin and aesthetically pleasing sachets, adding to the overall appeal of the product.
The tea has a rich aroma, enhancing the tea-drinking experience.
Cons
We did notice loose chamomile tea dust in some of the tins. While this didn't affect the quality of the tea, it could be a concern for those worried about potential contamination.
A few of us found the flavor a bit bland compared to other chamomile teas we have tried. This is, however, a subjective matter of personal preference.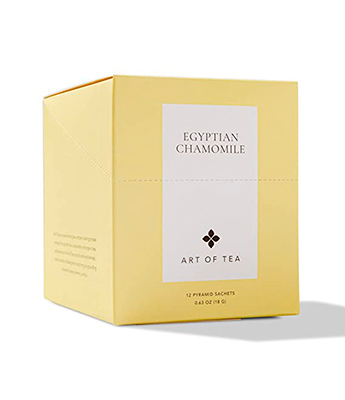 These handcrafted, eco-friendly sachets house organic Egyptian Chamomile, a tisane known for its sweet, soothing taste. Each individually wrapped sachet guarantees a fresh, full-flavored cup, making it an ideal companion on the go or an artful addition to your kitchen. The tea is caffeine-free, and perfect for relaxation and mindfulness. Crafted without additives, the blend's sole ingredient is Organic Chamomile.
Pros
Delicious and soothing chamomile flavor.
Organic and USDA certified, ensuring high quality.
Individually wrapped, eco-friendly sachets for convenience and freshness.
Can brew multiple cups from one sachet, offering value for money.
Beautifully packed, making it a great gift option.
Contains real flower parts for an authentic experience.
Can be enjoyed with or without honey, catering to personal preferences.
Cons
Mild taste may not be strong enough for some tea drinkers.
Higher price point compared to other chamomile teas.
Occasional issues with quality control, such as empty sealed sachets.
This whole-leaf herbal blend is a delightful symphony of quality ingredients, featuring sunny Egyptian chamomile with its sweet, apple-like notes, harmoniously paired with the refreshing zest of lemongrass and lemon balm. Lavender and rose petals, alongside orange and heather blossoms, add an exquisite floral nuance, while naturally sweet blackberry leaves enhance the overall flavor profile. This tea not only promises a soothing, calming cup, perfect for unwinding, but also comes packed with healthy antioxidants and Vitamin C. It's a testament to the fact that healthful can indeed be delicious.
Pros
Crafted with only the finest quality and freshest natural ingredients.
Balances the sweet flavor of chamomile blossoms with fresh minty tones of lemongrass and lemon balm.
Contains rose petals, lavender flowers, and naturally sweet blossoms for a delicious, calming cup.
Certified Kosher and contains healthy antioxidants and Vitamin C.
Beautifully packaged and perfect for gift-giving.
Cons
Some tea drinkers may find the blend of flavors too intense or overwhelming, especially if they're new to herbal teas.
High-quality ingredients often come at a higher price, which might not fit into everyone's budget.
Those with allergies to any of the ingredients (like chamomile, lavender, or citrus) would need to avoid this tea.
Traditional Medicinals Organic Chamomile Herbal Leaf Tea is a wholesome and soothing beverage that capitalizes on the therapeutic benefits of chamomile. Sourced from the fertile Nile Valley, the tea is made using the prized flowers of German Chamomile, which are known for their high essential oil content. This organic tea is known for its calming effects and digestive support, making it a beloved choice for herbal tea enthusiasts. With its floral fragrance and sweet honey flavor, each cup offers a natural, aromatic delight. Certified organic by CCOF, this tea ensures a pure, healthful experience with every sip.
Pros
The tea has a strong, authentic chamomile flavor without any added ingredients.
It's certified organic and free-trade, providing confidence in its sourcing and production.
We found it effective in soothing stomach irritation and promoting sleep, reflecting its traditional medicinal uses.
Traditional Medicinals Organic Chamomile Herbal Leaf Tea has a delicious flavor, standing out among other chamomile teas.
The use of chamomile flowers only, excluding tasteless stalks and leaves, enhances the overall quality and taste.
Cons
Didn't find any.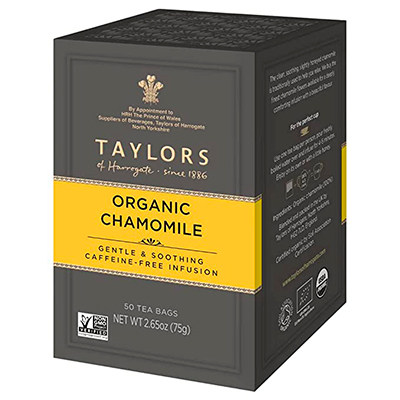 Taylors of Harrogate Organic Chamomile Herbal Tea is an exquisite selection of 50 teabags, valued for its calming qualities and aromatic charm. This tea is derived from organically-grown chamomile, ensuring optimal purity and flavor. Its naturally caffeine-free nature deems it a suitable selection for a bedtime routine, aiming to promote restful sleep. As a testament to the brand's commitment to sustainability, Taylors of Harrogate is Carbon Neutral Certified and a member of the Ethical Tea Partnership.
Pros
Notably flavorful and fresh compared to other chamomile teas, making it a pleasant sleep aid.
Contains 50 tea bags per box, offering good value for the price.
High-quality teabags that don't break down during use.
Cons
A few people on our review team found the taste peculiar, even comparing it to coffee.
How We Selected the Best Chamomile Teas
Our selection process was rigorous, but ultimately rewarding. We focused on three key factors: quality of the tea, intensity and flavoring, and brewing convenience.
Quality of the Tea
The quality of chamomile tea greatly influences its taste, aroma, and overall enjoyment. We evaluated this by considering the source of the chamomile flowers, whether they are organic, and how they are processed. High-quality teas usually contain whole flower heads rather than fragments, imparting a stronger, more robust flavor.
Intensity and Flavoring
Chamomile tea is known for its delicate, slightly sweet, and calming flavor. However, the intensity and specific flavoring can vary widely among different brands. We tasted each tea to assess its flavor profile, looking for a well-balanced, flavorful brew that wasn't too weak or overly strong. We also paid attention to any additional flavorings like honey, vanilla, or lavender, which can complement the natural chamomile flavor when used subtly.
Brewing Convenience
Brewing convenience is an essential aspect of the tea-drinking experience. The best chamomile tea should be easy and straightforward to prepare, without requiring any special tools or techniques. We evaluated factors such as the type of packaging (loose tea vs. tea bags), brewing instructions, and the ease of storage.
Tips for Choosing the Best Chamomile Tea
When shopping for chamomile tea, the sheer variety can be overwhelming. Here are some tips to help you navigate the options:
Check the Ingredients: Always look at the ingredient list. Pure chamomile tea should contain only chamomile flowers. If there are additional ingredients like other herbs or flavorings, make sure they are ones you enjoy.
Choose Organic: If possible, opt for organic chamomile tea. Organic teas are free from pesticides and artificial fertilizers, making them a healthier choice.
Consider the Form: Chamomile tea comes in various forms, including loose flowers and pre-packaged tea bags. While loose flowers often offer a more robust flavor, tea bags are more convenient for quick brewing.
Read Reviews: Reviews from other customers can provide valuable insights about the tea's flavor, aroma, and overall quality.
Trust Your Taste: Lastly, remember that the "best" chamomile tea is largely subjective. What matters most is finding a tea that you enjoy and will drink regularly.
With these guidelines, we hope you'll find your perfect chamomile brew for 2023 – one that brings you comfort, tranquility, and a sense of well-being with each sip.
FAQ
When Is the Best Time to Drink Chamomile Tea?
Chamomile tea is known for its calming properties, making it an excellent drink before bedtime to promote a good night's sleep. However, chamomile tea has other benefits, so ultimately, the best time to drink chamomile tea depends on your goal.
How Long Does It Take for Chamomile Tea to Work?
Chamomile tea's calming effects can start to be felt about 30-45 minutes after consumption. For digestive benefits, it may take a couple of hours or more after drinking the tea.
How Long to Steep Chamomile Tea?
For the best flavor and maximum benefits, steep chamomile tea for around 5 to 10 minutes. However, you can adjust the steeping time according to your taste preference.
Does Chamomile Tea Have Caffeine?
No, chamomile tea is a caffeine-free herbal tea, making it a great choice for those looking to reduce their caffeine intake or need a calming beverage.
How Many Cups of Chamomile Tea for Anxiety?
While the exact amount can vary depending on individual tolerance and body chemistry, generally drinking 2-3 cups of chamomile tea per day can help manage symptoms of mild anxiety. Always consult a healthcare professional for personalized advice.
Does Chamomile Tea Expire?
Yes, like other teas, chamomile tea does expire. It is generally best to consume it within one to two years for maximum freshness and potency.
How Do I Make Chamomile Tea Taste Better?
To enhance the flavor of chamomile tea, you can add a bit of honey, lemon, or mint. Experimenting with additional herbs, such as lavender or lemongrass, can also add a unique twist to the flavor profile.
What Are the Benefits of Chamomile Tea?
Chamomile tea has a range of health benefits, including reducing anxiety and stress, promoting better sleep, aiding digestion, and providing antioxidant properties.
Can I Smoke Chamomile Tea?
While technically possible, smoking chamomile tea is not recommended. The health impacts of smoking chamomile are not well studied, and inhaling any kind of smoke can be harmful to the lungs.
Does Chamomile Tea Stain Your Teeth?
Chamomile tea is much less likely to stain teeth than black or green tea. However, like any beverage other than water, regular and prolonged consumption can potentially cause some discoloration over time. Regular dental hygiene can help manage this.
Which Chamomile Is Best For Tea?
German chamomile (Matricaria recutita) and Roman chamomile (Chamaemelum nobile) are the two varieties most commonly used for tea. German chamomile is often preferred for its sweeter flavor and higher concentration of beneficial compounds like flavonoids and essential oils, making it the most popular choice for chamomile tea.