The 8 Best Tea Places in Chicago
According to recent research, Chicago has over 600 places to enjoy a cup of tea. While there are numerous options, not all tea places are of equal quality.
In this article, we will explore the top 8 tea spots in the city. We won't limit ourselves to traditional tea houses. We'll also highlight regular cafes and even coffee houses where you can enjoy an exceptional cup of tea.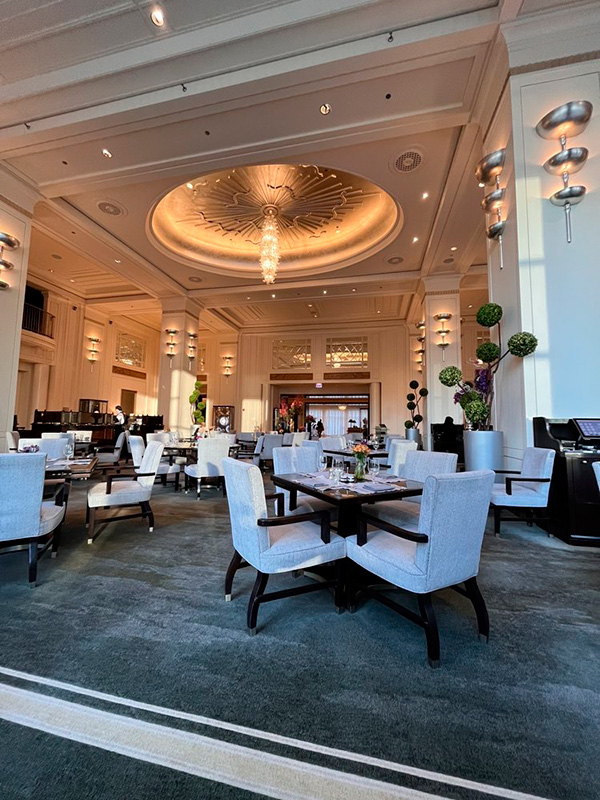 Nestled within the iconic Peninsula Chicago hotel, The Lobby provides an intimate atmosphere for patrons looking to experience a refined American menu. Adorned with a classic, understated elegance, The Lobby boasts soaring 20 ft high floor-to-ceiling windows, giving diners a view of the Terrace. Popular among Chicago locals and tourists alike, the breakfast offerings have become a city favorite.
A significant highlight is their Afternoon Tea, available from Friday to Sunday. With seating times set at 2:30 p.m. and 4:30 p.m., guests can partake in a seasonally changing tea menu. Beyond the diverse range of premium loose-leaf teas, the tea service is paired with a delightful array of treats.
The space's ambiance is accentuated by a balcony where live music, including an orchestra, occasionally plays, enveloping guests in a serene auditory experience. While reservations are necessary, made possible through a prepaid system via Tock, the experience promises a blend of elegance, tradition, and contemporary American flavors. Whether visiting Chicago or residing in its bustling heart, The Lobby offers a space to pause, indulge, and relish the art of dining and tea drinking.
Pros
Elegant and stunning ambiance/atmosphere.
High-quality tea selections.
Delicious treats, scones, and sandwiches.
Exceptional service and attentive staff.
Live music/orchestra enhances the experience.
Provides an upscale, memorable experience.
Offers additional amenities, such as specially curated lotions.
Welcoming and accommodating to both humans and pets.
Cons
Expensive. Also may be perceived as overpriced.
The food quality is inconsistent between visits.
Specific dietary needs/allergies might not always be adequately addressed.
Location: 108 E Superior St, Chicago, IL 60611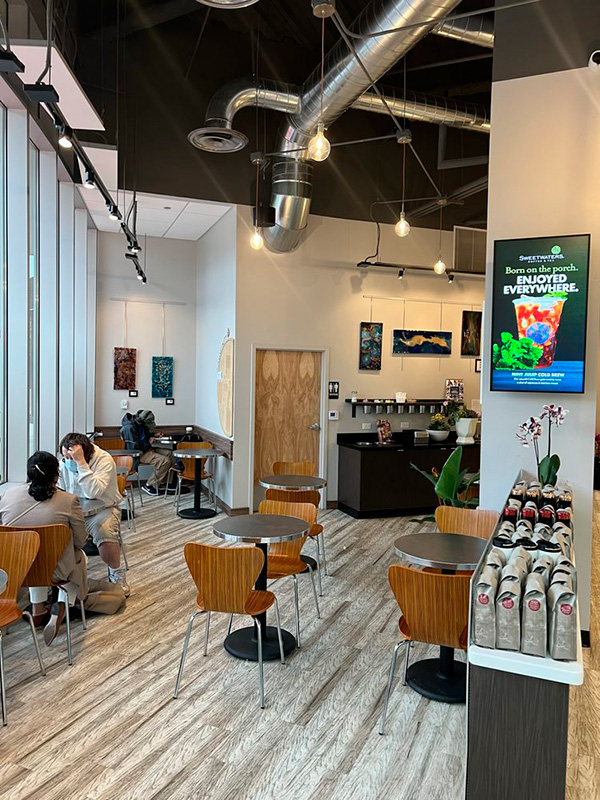 Founded in 1993 by Wei and Lisa Bee, Sweetwaters Coffee & Tea is a reflection of a deep-rooted passion for food and beverages. Located in the North Avenue district, this establishment emphasizes its global influences, particularly evident in its diverse tea selection.
Tea aficionados can expect choices ranging from the familiar Chamomile and Earl Grey to the more unique Dragon Pearl Jasmine and Jade Matcha. The offerings don't stop at teas, however. Coffee enthusiasts have a range to choose from, including the Abianno Espresso and Midnight Blend. For those seeking sustenance, Sweetwaters also offers an assortment of breakfast sandwiches and pastries.
The ambiance at Sweetwaters complements its menu. The interior is clean and well-lit, providing a conducive environment for both quick stops or longer, relaxed stays. Outdoor seating is available for those who prefer a more open setting. In addition to beverages and food, visitors can browse through an array of merchandise available both online and in-store.
With extended hours till 9 p.m., Sweetwaters offers a blend of convenience and quality, making it a notable destination in the area for both tea and coffee lovers.
Pros
Wide variety of drinks and food.
Friendly and knowledgeable staff.
Clean and welcoming ambiance.
Convenient opening hours.
Many drink customization options.
Good location with nearby amenities and parking.
Offers free wifi and ample outlets.
Outdoor seating available.
High-quality beverages.
Unique drink offerings (e.g., matcha craft drinks, Imperial milk tea).
Cons
Location: 1457 N Halsted St, Ste B105, Chicago, IL 60642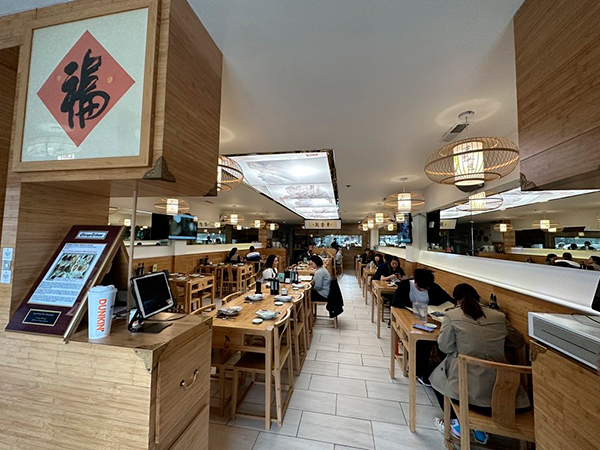 Located in the heart of Chicago's bustling Chinatown, Qing Xiang Yuan Dumplings offers a cozy setting for those seeking an authentic dumpling experience. While famed for its fresh, handmade dumplings, the café also boasts an impressive selection of teas, bringing flavors from various parts of Asia to the Windy City. Tea enthusiasts will appreciate the broad range, including longjing, biluochun, dahongpao, and the popular Iron Buddha, to name a few. For those on-the-go, bottled options like Jasmine Honey tea and Green tea are available.
Upon stepping inside, the warm ambiance and minimalist decor provide a serene backdrop, allowing the flavors to truly shine. The dumplings, each a harmonious blend of ingredients, are offered in various preparations—steamed, fried, or boiled—catering to diverse palates. For first-timers, the lamb and carrot or beef and onion variants come highly regarded. While the establishment tends to get busy, reflecting its popularity among locals and visitors alike, the attentive staff ensures a pleasant dining experience.
Reservations are recommended, especially during peak hours, but for those who chance a walk-in, the wait is often well worth it. Vegetarian options are available, ensuring that everyone can partake in the delights of Qing Xiang Yuan Dumplings. Whether it's a pot of aromatic tea or a plate of juicy dumplings, this spot offers a taste of traditional flavors with a contemporary touch.
Pros
Excellent dumplings.
Friendly and attentive staff/service.
Good tea selection.
Lively and pleasant ambiance.
Offers vegetarian options.
Can make reservations through Yelp.
Cons
Busy/crowded restaurant.
Seating can be close together/crowded.
Some may find it pricey (especially the tea).
Location: 2002 S Wentworth Ave, Ste 103, Chicago, IL 60616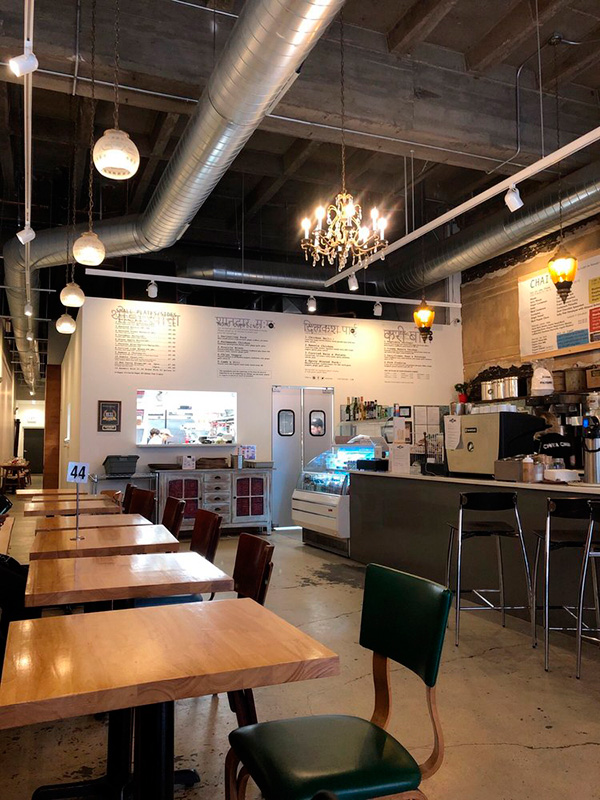 Nestled in Chicago's vibrant Logan Square neighborhood, Chiya Chai stands as a testament to the rich tea heritage of Nepal and India. With origins rooted in the family history of tea merchants who pioneered the export of Nepalese tea, this café provides an extensive chai program, offering a selection that ranges from traditional to exotic. The spices, sourced directly from Nepal, India, and surrounding regions, allow for over 150 potential combinations of chai, presenting a genuine, flavorful experience.
While the main attraction is undoubtedly their teas, such as the Spicy Masala Chai and the Ginger Cardammon Chai, Chiya Chai doesn't stop there. It complements its robust tea menu with a diverse range of Nepali and Indian inspired dishes. From savory pies and MoMo dumplings to aromatic curries, each dish is carefully handcrafted to ensure authenticity and taste.
The café is also distinguished by its tasteful, thoughtful interior design, offering an ambiance that's both comfortable and intriguing. Whether you're looking for a place to engage in quiet reflection, to catch up on some work, or to converse with friends, Chiya Chai offers the environment to suit. Visitors can also explore a special cocktail program, which integrates a variety of aromatic and exotic spices in combination with tea and other ingredients.
Chiya Chai, with its blend of traditional flavors and contemporary setting, provides a unique space where heritage meets modernity, making it a must-visit for both chai enthusiasts and those new to this flavorful world.
Pros
Flavorful chai varieties, particularly Spicy Masala Chai and Ginger Cardammon Chai.
A variety of menu options with both meat and vegetarian dishes.
The Aloo Chaat, Samosas, Masala Fries, Momo dumplings, chicken momos, and pani puri are highly recommended.
Dishes offered are inventive and unique, such as chicken masala pie.
Ample seating and a comfortable atmosphere.
Helpful and friendly staff.
Chai brews are made with spices, providing an authentic taste.
Quiet ambiance suitable for studying or working.
Option to buy chai concentrate for home use.
Cons
A bit on the pricier side. The pricing for some drinks is comparable to mainstream chains like Starbucks.
Location: 2770 N Milwaukee Ave, Chicago, IL 60647
Located within the luxurious setting of The Langham, the Pavilion offers an enchanting afternoon tea experience that traces its roots back to The Langham, London in 1865. With a soaring ceiling and captivating city view, Pavilion creates a serene ambiance that complements its refined menu, curated by Executive Chef Damion Henry.
The tea is undoubtedly the star of the show. Guests can savor the unique proprietary Langham teas, each having its own distinct aroma and taste. Noteworthy mentions include the Mango Oolong tea with its regal golden hue, the refreshing Organic Pear Tree infused with ripe pears, and the Silk Road Blend, which marries the delicate notes of white tea with aromatic jasmine flowers and whole Iranian rose buds.
To accompany the teas, an array of sweet and savory bites is presented with traditional elegance. The bites range from delicate and innovative to classic favorites, ensuring there's something to appeal to every palate. The space's ambiance is further enhanced during weekends with the harmonious melodies from live musicians.
The overall experience at the Pavilion is one of relaxation, offering a peaceful afternoon respite in a setting that combines old-world charm with modern elegance. Whether you're looking to wind down after a busy week, seeking a spot for intimate conversations, or simply wanting to enjoy a view of the city, the Pavilion at The Langham provides a memorable afternoon tea experience steeped in tradition.
Pros
Elegant and beautiful ambiance (high ceilings, chandeliers, modern chic hotel, stunning decorations)
Good tea selection and quality (Mango Oolong, Organic Pear Tree, Mountain Berry, Nutcracker, Silk Road)
Unique and thematic experiences (e.g., Alice in Wonderland theme)
Live music (harpist playing both classical and modern songs)
Attentive service
Savories, scones, and desserts are often tasty and well-prepared
Special dietary accommodations (like gluten-free options)
Champagne and other beverages complimentary or included
Service includes detailed descriptions of items
Portion sizes are generally good, often resulting in leftovers
Cons
Expensive and may sometimes be perceived as not worth the price.
Service can be inconsistent or lacking at times (long waits, rehearsed lines, less attentive near the end)
Some patrons may miss traditional tea elements like tea sandwiches
Location: 330 North Wabash Avenue, Chicago, IL 60611
The Allis Bar, tucked inside the historic ground floor lobby of Soho House Chicago, exudes a relaxed ambiance, making it suitable for group dining, meetings, and intimate date nights. Named after the family that commissioned the building in 1907, The Allis offers a glimpse of the past with contemporary comforts. Patrons can relish the beauty of Green Street through its floor-to-ceiling windows and appreciate an expansive art collection adorning the space.
Beyond its aesthetics, The Allis offers a unique culinary experience. On Fridays and Saturdays between 2 p.m. and 4.30 p.m., it transforms into a haven for tea aficionados. The afternoon tea experience here is not just about sipping from a cup but diving into an assortment of housemade pastries and savory delights, all thoughtfully paired with tea and, if one so chooses, Champagne. For those who lean toward the classics, Earl Grey is certainly worth mentioning, but their menu offers an array of options catering to diverse palates.
The light Mediterranean fare with a French twist further elevates the experience, offering a menu that's a testament to the culinary diversity and innovation. Casual yet sophisticated, The Allis provides a balanced setting where the history of Chicago meets the leisurely art of tea time.
Pros
Good atmosphere and decor
Reasonable prices compared to competitors
Tasty food, especially pastries
Variety of tea choices
Can accommodate large groups
Cons
Poor service at times, including long wait times
Some may find the tea to be average or flavorless
Issues with reservations
Limited savory options in afternoon tea set
Location: 113 – 125 North Green Street, Chicago, IL 60607
For aficionados of traditional afternoon tea, the Palm Court at The Drake Hotel offers a deeply rooted experience in the Gold Coast neighborhood of Chicago. Operating for nearly a century, this venue has welcomed royalty such as the Queen and Princess Diana.
Upon entering, guests are presented with the Palais de Thes menu, showcasing 17 distinctive tea blends. From classics like English Breakfast and Earl Grey to unique concoctions such as the Mélange du Cap, the selections cater to both purists and those seeking a modern twist. This tea, flavored with cocoa nibs and vanilla pods amidst a rooibos foundation, promises a nuanced experience.
Tea is poured into individual pots, with accompaniments presented on a traditional three-tiered tray. This array includes gourmet finger sandwiches, freshly baked bread, scones, and petit fours. Complementing these are house-made preserves, zesty lemon curd, and velvety English double Devon cream crafted in their pastry kitchen.
Additionally, the establishment acknowledges younger enthusiasts with the Prince & Princess Afternoon tea, tailored for children aged 3 to 12.
Given its popularity and seating constraints, reservations for the Afternoon Tea Service are recommended. To ensure an authentic tea experience, seating is capped at a 90-minute duration. Whether you're a seasoned tea connoisseur or seeking a novel experience, the Palm Court offers a glimpse into a timeless tradition amidst the bustling heart of Chicago.
Pros
Beautiful ambiance and atmosphere (fountain, harpist, decor).
Attentive and friendly service from staff.
Good selection of teas.
Scones, especially with jam, butter, and lemon curd, are high quality.
Refill policy for both tea and food.
Elegant experience (fascinators, white gloves, setting).
Holiday decorations and festive feel.
Cons
Some may find it overpriced for the offerings.
Quality and taste of some food items may be inconsistent.
Slow service at times.
It can be loud.
Location: 140 East Walton Place, Chicago, IL 60611
Kostali by Naha provides a unique coastal experience right in the heart of Chicago, allowing patrons to immerse themselves in the diverse culinary flavors of the Mediterranean coast, from Spain and Italy to Lebanon and Morocco. The establishment reflects its Mediterranean influences not only in its dishes but also in its interior design. For instance, the ocean-blue enameled lava stone bar imported from France, as well as brass-toned metal screens inspired by nautical maps, echo the ambiance of the great Mediterranean rivieras.
A standout feature at Kostali is its "Tipsy Tea" experience. Guests can revel in a mix of traditional tea and spirited infusions, each served in generous pots, making it suitable for sharing among friends. Accompanying the tea is an assortment of sweet and savory treats presented in a tower format.
The tea selection itself, while served in tea bags, offers a variety of choices that cater to both the conventional tea lover and those looking for an alcoholic twist. Additionally, Kostali has made efforts to accommodate dietary needs and allergies, adding a personal touch to the tea experience.
The ambiance is further enhanced on certain days with the presence of a live DJ, and the cafe occasionally introduces themed events, making each visit distinct. Situated within The Gwen, a Luxury Collection Hotel, Kostali represents a collaborative endeavor with James Beard Award-Winning chef Carrie Nahabedian. If you're in Chicago and have a penchant for teas with a Mediterranean flair, Kostali is worth a visit.
Pros
Good ambiance and decor.
Excellent service from staff.
Unique and fun experiences (e.g., tea parties and Tipsy Tea).
Live DJ and music quality.
Attention to dietary restrictions.
Array of sweet and savory hor d'oeuvres.
Quality of teas, including boozy tea.
Event entertainment (e.g., Claire Voyant's performance).
Variety in seating options.
Cons
Issues with reservation accommodations.
Expensive for some experiences.
Tea served in bags instead of loose tea.
Loud music affects the ability to converse.
Slow service at times.
Location: 521 N Rush St, Chicago, IL 60611