The 8 Best Tea Places in Seattle
Not only is Seattle renowned for its coffee houses, but according to research, it also ranks among the top 10 cities for tea lovers in the US. The study indicates that Seattle is 5th in the U.S. for the number of tea spots per square mile and 14th for average tea place review ratings, suggesting a high concentration of quality tea places.
In this article, we will explore the top 8 tea spots in the city. We're not limiting ourselves to traditional tea houses; we'll also highlight cafes where you can savor an exceptional cup of tea.
Nestled in White Center, WA, Dubsea Coffee offers a quiet retreat for tea and coffee lovers. Established in November 2009, this space is not just for those seeking a caffeine boost but for anyone looking for a place to relax, work, or catch up with friends.
For tea enthusiasts, Dubsea's selection is noteworthy. They predominantly stock teas from RISHI and Metolius brands. Particularly notable among their tea offerings is the Rat City Chai Tea, a blend inspired by the local nickname "Rat City." This chai offers a comforting taste and encapsulates the cafe's close ties with its community, having been conceived by the owner's daughter. In addition to specialty teas, they also offer standard options like black, green, and herbal. Their best-selling choices include London Fog, Rat City Chai, and Iced Orange Blossom Tea.
Alongside its beverage selection, Dubsea presents a variety of treats sourced from local bakeries like Macrina Bakery and Mighty-O Donuts. Those stopping by for a meal can choose from a range of breakfast and lunch sandwiches and wraps, some catering to vegan and gluten-free diets. Free Wi-Fi is available for those needing a work-friendly environment or just some online browsing. The ambiance is understated yet welcoming, embodying a balance between modern design and a sense of familiarity. Dubsea Coffee stands as a testament to the importance of local cafes in nurturing and fostering community ties.
Pros
Wide variety of teas and coffees, with particular praise for Rat City Chai Tea, Morning Glory Spiced Chai, and Cardamom Latte.
Offers organic loose-leaf tea.
Friendly and accommodating baristas with excellent customer service.
Clean and well-maintained ambiance with a modern design.
Family-friendly with a children's play area.
Regularly features local artists and their work.
Offers free Wi-Fi for customers.
Abundant seating and workspace for customers.
Reasonable pricing in line with market rates.
Cons
Music volume can sometimes be loud.
Limited parking duration (2-hour limit).
Location: 9910 8th Ave SW Seattle, WA 98106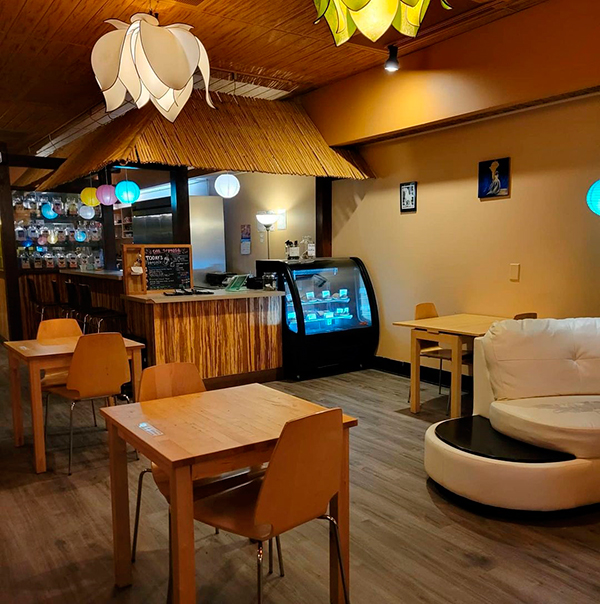 Tea Republik, situated in Seattle's U District, is known for its dedication to the art of tea. Nestled among bustling streets, it offers a vast range of teas, from traditional favorites like lavender creme earl grey to distinctive choices such as the Formosa milk tea, mirroring authentic Taiwanese flavors. Each cup is brewed fresh upon order, ensuring an authentic experience for every patron.
The cafe's ambiance, marked by its wooden furnishings and subdued lighting, makes it a preferred spot for many—be it students engrossed in their books, friends in quiet conversation, or individuals seeking some quietude with a good read.
Apart from the standard teas, Tea Republik offers a spectrum of milk teas and other unique beverages, with an emphasis on genuine flavors over excessive sweetness. And for those in the U District during the later hours, the cafe's extended opening times are a definite boon, providing a space for a late-night tea fix.
Pros
Wide selection of freshly brewed teas.
Calm and peaceful ambiance suitable for studying and relaxation.
Offers unique and authentic tea flavors reminiscent of places like Taiwan.
Knowledgeable and friendly staff.
Clean and well-maintained bathroom.
Open late, accommodating evening visitors.
Comfortable seating and decor.
Environmentally conscious (reduced plastic waste when dining in).
Less sweet compared to typical boba shops.
Bulk discounts are available for larger purchases.
Cons
Interior lighting might be too dim for some activities.
Can get a bit noisy at times, potentially affecting work or study.
Location: 4527 University Way NE, Seattle, WA 98105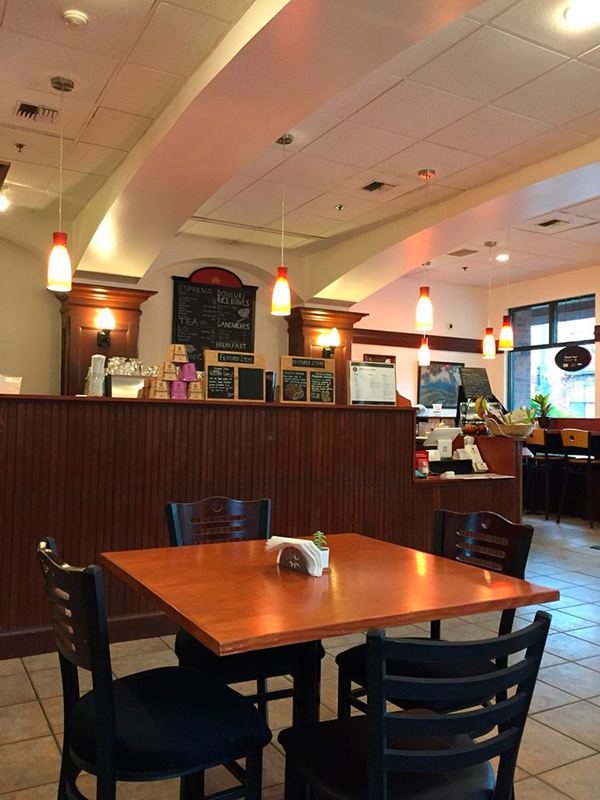 Koku Cafe + Market, nestled atop Queen Anne Hill, is a unique culinary gem inspired by the Japanese concept of Kokumi, which translates to "rich taste." Established in 2018, Koku celebrates the marriage of all six flavors the tongue can sense, with Kokumi being the sixth, providing a rich and complex flavor profile. The menu, a blend of Japanese influence and classic French techniques, is a testament to the founder's extensive travels through Japan and his training at the renowned French Culinary Institute.
At the heart of their beverage offerings is a meticulously curated tea selection. From the classic Royal Milk Tea to diverse black teas like Assam, Earl Grey, and Lapsang Souchong, tea enthusiasts will find much to explore. Their green tea range features Sencha and Gen Mai Cha, while those seeking a twist can enjoy the creamy Matcha Latte. Koku's rooibos offerings are particularly noteworthy, spanning from the traditional Pure Rooibos to creative concoctions like the Iced Fresh Red and White Mocha Red.
In addition to their stellar beverage lineup, the cafe's menu boasts both familiar and intriguingly unique dishes, such as the Gochujang Pork Rice Bowl. Furthermore, the space doubles as a market, offering an array of global ingredients, ensuring patrons leave with both satisfied palates and exciting finds to take home.
Pros
Offers a wide range of unique flavors and dishes.
The staff is friendly, and the service is efficient.
Good ambiance; cozy and ideal for various weathers.
The cafe offers a quiet atmosphere suitable for remote work.
Many dishes are hearty and comforting.
Reasonably priced items.
Offers a variety of beverages, including unique lattes and teas.
Some dishes are customizable to individual preferences.
The cafe includes a small grocery store section with unique items.
The matcha items, particularly the latte, are of high quality.
Cons
Location: 1417 Queen Anne Avenue North, Seattle, WA 98109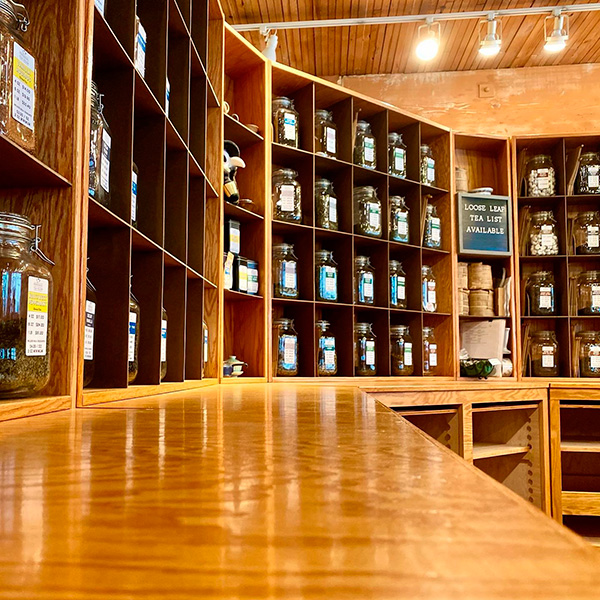 Located in the heart of Seattle's historic Pike Place Market, Perennial Tea Room has been a staple for tea enthusiasts since 1990. Established by two friends passionate about tea, the shop offers an impressive selection of high-quality teas and tisanes. Those new to the world of tea will find a welcoming and educational environment, while seasoned connoisseurs can explore rare and unique blends alongside familiar favorites.
The shop's interiors echo its warm and traditional approach to tea, with walls lined with glass jars containing a myriad of teas, and shelves adorned with tea accessories. The ambiance is enhanced by knowledgeable staff who are always eager to share insights or offer recommendations. Whether you're looking for a refreshing cup on a sunny day or want to take home some loose-leaf tea to brew in your own time, there's something for everyone.
For those who prefer to enjoy their tea on the spot, a small seating area allows visitors to sip and relax, soaking in the cozy atmosphere. And if you're keen on expanding your tea knowledge, there's always an expert on hand to discuss the finer points of the tea world.
Overall, Perennial Tea Room is a charming spot in Seattle, bridging the gap between tradition and the contemporary tea experience.
Pros
Centrally located in Pike Place Market.
Wide variety of high-quality teas.
Welcoming atmosphere suitable for both novices and connoisseurs.
Traditional and cozy shop interiors.
Knowledgeable and friendly staff.
On-site seating is available.
Cons
Location: 1910 Post Aly, Seattle, WA 98101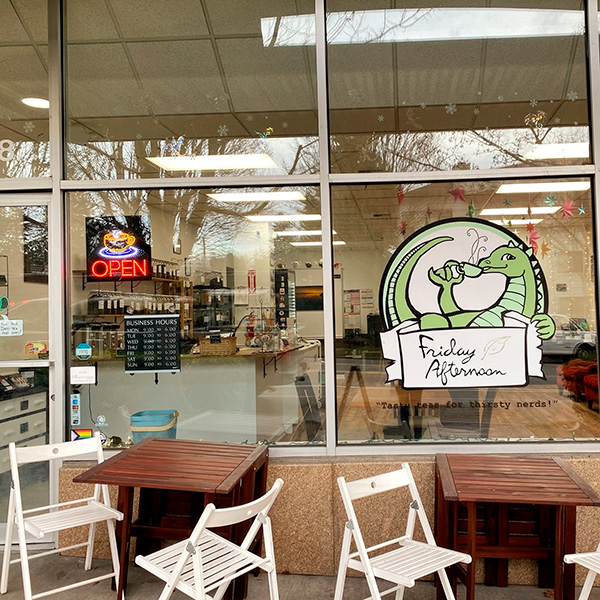 Friday Afternoon is a distinct family-owned tea haven with a rich history of "tea wizardry." Set in the heart of Wallingford, this tea room boasts an extensive collection of loose-leaf teas, custom blends, and tea wares catering to connoisseurs and casual drinkers.
The establishment occasionally hosts events like game nights, making it more than just a tea shop. Its warm and inviting space encourages visitors to explore the world of tea while enjoying a board game or two. Ethical sourcing remains a priority, ensuring that each cup is a taste sensation and a nod to responsible business practices.
Pros
Distinct, geeky-themed atmosphere.
Wide range of loose-leaf teas and custom blends.
Frequent, fun events like game nights.
Ethical sourcing ensures quality and responsibility.
Cons
Potentially overwhelming choices for new customers.
Location: 4228 Stone Way N, Seattle, WA 98103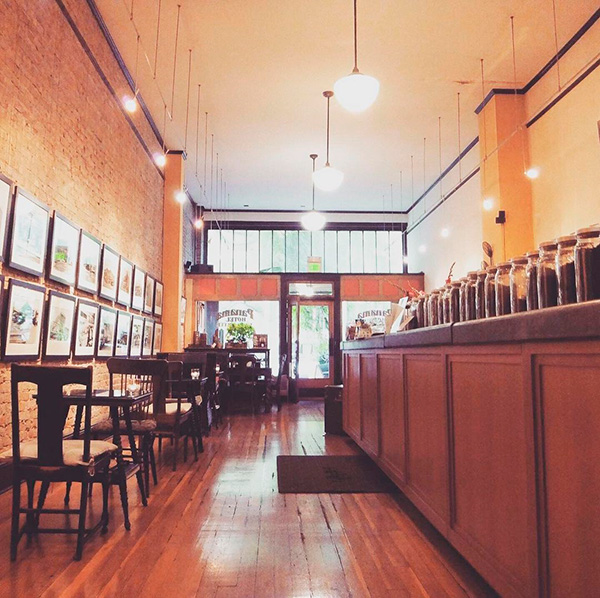 Located within the Panama Hotel, the Tea & Coffee House is a quiet reflection of Seattle's history combined with a passion for tea. Established in 2001, the cafe offers over 40 kinds of tea from various global regions, from the well-known English Breakfast to the distinctive Ginger Lime Rooibos. They also serve locally sourced coffee from Mio Coffee and provide a selection of pastries and sandwiches.
This cafe isn't just about refreshments; it's also a link to Seattle's past. Within its space, there's a museum showcasing artifacts, notably the suitcases of Japanese Americans from WWII. The stories of Nihonmachi (Japantown) are told through historical photos and items. A unique feature of the cafe is a section of the floor that allows visitors to see the basement where these suitcases have been preserved.
The interiors blend modern comfort with old-world touches, influenced by Asian aesthetics. Seating varies, accommodating both solitary visitors and groups. And for those who appreciate a bit of feline company, a resident cat occasionally mingles with guests. For those looking to enjoy tea in a space deeply connected to Seattle's history, the Panama Hotel Tea & Coffee House offers just that.
Pros
Wide variety of over 40 teas.
Historical significance with museum and artifacts related to Japanese Americans during WWII.
View into the basement to see unclaimed possessions.
Cozy atmosphere.
Friendly staff with knowledgeable service.
Serves local coffee from Mio Coffee.
Pastries and handmade sandwiches are available.
Located in Seattle's Nihonmachi (Japantown).
Cons
Limited food options.
Service might be slow during peak hours with limited staff.
Location: 607 South Main Street, Seattle, WA 98104
Established in 2007, Miro Tea in the Ballard neighborhood is a community-focused tea shop that offers a selection of artisan-quality teas. With connections to tea producers from over a dozen countries, they prioritize genuine relationships in their sourcing process, ensuring the teas they serve are both delicious and representative of their origin.
Miro Tea's menu constantly evolves with the seasons, allowing regular patrons and newcomers alike to delve into various flavors. Notable mentions from their offering include the Nitro Matcha and the Mobn Milk, which boasts subtle hints of lavender, chamomile, and cardamom. Accompanying their beverage selections, the cafe provides pastries sourced from local bakeries such as Macrina and Rila.
The ambiance of Miro Tea is one of its distinct characteristics. It's a space where visitors can find a cozy corner to read, work, or simply relax with a cup in hand. The welcoming environment and their emphasis on high-quality tea make Miro Tea a valued spot in the Ballard community.
Pros
Wide variety of high-quality teas from around the world.
Knowledgeable and efficient staff.
Pastries sourced from reputable local bakeries.
Cozy ambiance suitable for relaxation, reading, or working.
Conveniently located near Ballard Farmer's Market.
Offers tasting samples of new teas.
Provides options to buy tea leaves for home brewing.
Pet-friendly space.
Cons
Often crowded, making seating hard to find.
Some desserts sourced from outside may lack freshness.
Prices are on the higher side for some drinks.
Location: 5405 Ballard Ave NW, Seattle, WA 98107
Nestled northeast of University Village in Seattle's Ravenna neighborhood, Queen Mary Tea Room is America's oldest independently owned tea room. Established in 1988, it offers a remarkable journey into traditional British afternoon tea rituals. Guests can savor a vast array of teas poured into fine English bone china teacups, an essential part of the experience. The tea room has built a reputation for its classic offerings like cranberry orange scones, crumpets, and the delights of a Formal Afternoon Tea.
It's not just the tea that captivates; the culinary spread here often elicits admiration. From savory sandwiches to delightful pastries, the menu promises a balance of flavors. And while the decor has a distinct nostalgic touch, symbolizing the Victorian era, it evolves with the seasons, ensuring each visit is a unique experience.
In addition to the tea room, just across the street lies the Tea Emporium, a haven for tea enthusiasts with an array of blends, designer teaware, and souvenirs. Queen Mary Tea Room provides a serene space for both locals and tourists to immerse themselves in a cherished tea tradition.
Pros
Oldest independently owned tea room in America.
Offers traditional British afternoon tea rituals.
Wide variety of teas served in English bone china teacups.
Classic offerings include cranberry orange scones and crumpets.
The menu boasts a balance of savory and sweet dishes.
The decor is reminiscent of the Victorian era and changes with the seasons.
Tea Emporium nearby offers a variety of tea blends and accessories.
Cons
Space inside the tea room can be tight, potentially limiting comfort and movement.
Location: 2912 Northeast 55th Street, Seattle, WA 98105