The 10 Best Bubble Tea Spots in Phoenix
While Phoenix has many places to enjoy boba tea, not all of them offer the same quality.
In this article, we will explore the top 10 boba tea spots in the city. We're not limiting ourselves to traditional bubble tea shops; we'll also spotlight cafes that serve exceptional boba tea.
Pop 'N Tea Bar, established in 2018, is a vibrant and innovative destination located in the bustling heart of Phoenix, Arizona. This locally owned and operated cafe has quickly become a go-to spot for those seeking a unique blend of traditional and modern refreshments. It stands out for its commitment to artisan, hand-crafted organic teas and all-natural gelato and sorbetto popsicles, which are creatively shaped using 3D printing technology.
The highlight of Pop 'N Tea Bar is its array of boba teas. Customers have a wide range of options to choose from, including classic milk teas and fruit-infused varieties. Favorites like Matcha Boba, Taro Burst, and the unique Sun Devil drink showcase the cafe's ability to blend traditional flavors with contemporary twists. Each tea is crafted with attention to detail, ensuring a delightful sensory experience.
Beyond boba teas, the cafe also excels in serving nitro-brewed teas on tap, offering a smooth and rich alternative to traditional tea preparations. Their famous Diamond Bars, a fusion of chef-inspired techniques and cutting-edge technology, present an array of visually stunning and delicious gelato and sorbetto options.
The interior of Pop 'N Tea Bar reflects its artistic and modern approach. The decor, characterized by vibrant art and a welcoming atmosphere, makes it an ideal spot for both relaxation and social gatherings. Whether you're looking for a quick boba tea fix, a delightful dessert, or a pleasant space to unwind, Pop 'N Tea Bar in Phoenix is a destination that promises a memorable experience with every visit.
Pros
Wide variety of options (milk teas, coffee, popsicles, ice cream, etc.).
Tasty and high-quality drinks and desserts.
Aesthetically pleasing decor and atmosphere.
Good customer service experiences (polite, courteous staff, and quick service).
Convenient parking.
Cons
Location: 550 W McDowell Rd, Phoenix, AZ 85003
Tortoise Tea House, situated on East Greenway Road in Phoenix, Arizona, serves a variety of handcrafted boba and bubble teas. This cafe has gained attention in the area for its extensive selection of milk and fruit teas.
Their menu prominently features milk teas, appreciated by customers for their balanced blend of milk and tea flavors. These teas are complemented by boba pearls that are known for their soft and chewy texture. For those preferring dairy alternatives, the cafe also offers a selection of tea-free lattes, including a distinctive sesame latte.
The fruit teas at Tortoise Tea House are another highlight, offering choices like the Thirsty Orange and various seasonal specials such as watermelon tea. Customers can also convert these fruit teas into floats by adding ice cream, creating a different taste experience.
The ambiance of Tortoise Tea House is modern and inviting, with an emphasis on cleanliness. The cafe is equipped with games, catering to both groups and individuals looking for a casual hangout or a quiet place to relax. The lighting is designed to be bright yet comfortable, enhancing the overall atmosphere.
The cafe is known for its efficient service, with an emphasis on quickly preparing orders. The staff is generally friendly, contributing to a welcoming environment.
In addition to teas, Tortoise Tea House offers a range of snacks and ice cream. The cafe provides a varied experience for those in Phoenix, whether they are regulars or first-time visitors, looking for a place to enjoy a range of tea flavors in a comfortable setting.
Pros
Fresh and delicious flavors, particularly in fruit teas.
Variety of drinks, including seasonal and special options.
Excellent quality of boba – soft, chewy, and well-cooked.
Clean, welcoming, and nicely decorated interior.
Friendly and efficient service.
Good pricing and value for money.
Cons
Inconsistency in the quality of milk teas.
Limited sweetness customization for some drinks.
Occasional issues with matcha flavor being too light or absent.
Some customers may find the boba size to be small.
Location: 2418 E Greenway Rd, Phoenix, AZ 85032
Mochi Fresh, situated in the bustling area of University Drive in Tempe, Arizona, has been serving boba tea since 2018. This cafe is known for its homemade boba, a feature that distinguishes it from many other bubble tea establishments in the area. Patrons of Mochi Fresh can expect a variety of boba tea options, with an emphasis on the quality and texture of the boba pearls.
The menu at Mochi Fresh is centered around bubble tea, with options that include both traditional and unique flavors. These drinks are made using real milk and fresh fruit, aiming to provide a more authentic taste. The cafe avoids the use of artificial syrups, instead relying on natural ingredients for flavoring. Popular choices among customers include the brown sugar boba and the mixed fruit tea, each known for their distinct taste profiles.
Beyond boba tea, Mochi Fresh offers other beverage choices like smoothies, coffee milk tea, and various loose leaf teas. A noteworthy aspect of their menu is the selection of flavored boba, such as mango and strawberry, which adds a different dimension to the drinks.
The interior of Mochi Fresh reflects a fusion of Taiwanese and Japanese styles, creating a pleasant atmosphere. The space, although not extensive, accommodates small groups comfortably and offers a suitable environment for enjoying a casual drink.
For those in the Tempe area looking for a bubble tea experience that emphasizes homemade boba and natural ingredients, Mochi Fresh presents itself as a viable option. Its approach to bubble tea, focusing on freshness and quality, caters to both enthusiasts and casual drinkers alike.
Pros
Fresh, handmade boba
Unique flavors in both drinks and boba
High-quality tea ingredients
Efficient service
A wide range of drink choices, catering to different preferences
Cons
Some flavors are too sweet
Finding seating may be challenging, especially for larger groups
Location: 960 W University Dr, Tempe, AZ 85281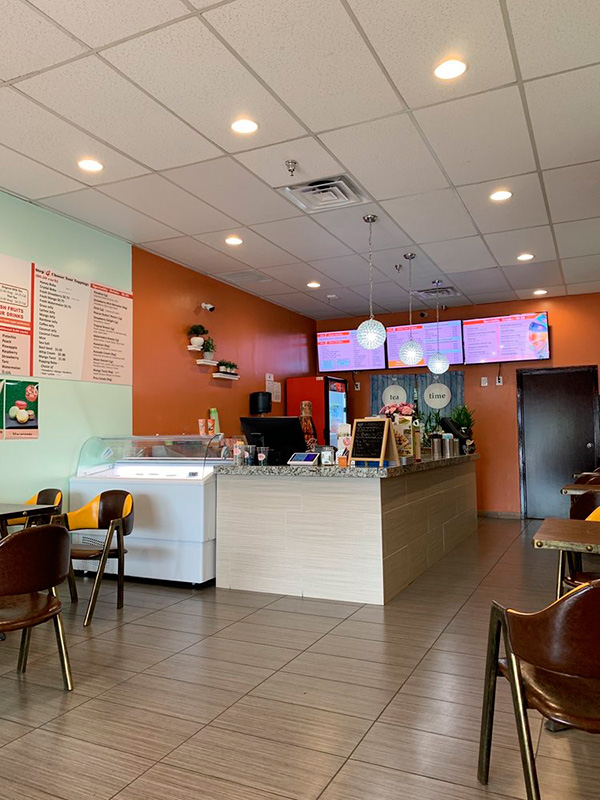 Boba Day, a café located in Scottsdale, Arizona, has been serving the local community since its opening in 2018. This café focuses on boba or bubble tea, offering a selection that emphasizes fresh fruit flavors. Customers have the option to customize their drinks with non-dairy milk alternatives, including almond, soy, and coconut milk. Additionally, the café allows patrons to adjust the sugar and ice levels in their beverages, catering to individual preferences.
The menu at Boba Day features a variety of boba teas. Traditional choices like the original milk tea and coffee milk tea are frequently ordered. For those looking for something different, the café also presents unique blends, such as the Oasis, which combines coconut cream, Oreo shavings, and spearmint. Despite the focus on boba teas, the café also serves other drink options, including fruity and coffee-based beverages.
The atmosphere of Boba Day is known for its cleanliness and the friendly demeanor of the staff. The café provides a space suitable for both quick stops and longer visits. A loyalty card system is in place, offering repeat customers potential rewards for their patronage.
While Boba Day is primarily known for its range of boba teas, the café's approach to customer service and drink customization contributes to its standing in the local boba tea market. It caters to a diverse clientele, from those well-versed in boba tea varieties to newcomers exploring this style of drink for the first time.
Pros
Variety of flavors and drink options.
Customization of drinks, including sweetness and ice levels.
Efficient and fast service.
Clean store environment.
Friendly and welcoming staff.
Loyalty programs available.
Cons
Inconsistency in drink quality.
Lack of fresh ingredients in some drinks.
Issues with incorrect orders and customer service handling.
Location: 4839 E Greenway Rd, Scottsdale, AZ 85254
Located in the North 16th plaza of Phoenix, Cafe Mollie emerged in 2021 as a venue offering a mix of Southeast Asian-inspired beverages and Western cafe staples. The cafe is known for its variety of boba or bubble teas, which include flavors like Ube, Thai, Lavender, and Matcha Taro Latte. These drinks are notable for incorporating boba pearls, providing a unique texture. The menu also features Vietnamese coffee and matcha green tea, catering to a range of tastes.
In addition to beverages, Cafe Mollie serves crepes and bubble waffles with options for fresh fruit toppings. While the drinks are a central aspect of the cafe's offerings, the food menu, although limited, complements the beverage selection.
The interior of the cafe is marked by modern decor and an abundance of house plants, creating a relaxed atmosphere. This setting suits those looking for a quiet spot or a casual meeting place. The cafe occasionally hosts music events, offering an outdoor setting where customers can enjoy their drinks.
Cafe Mollie is a place where one can find a fusion of flavors and a peaceful environment, appealing to those in the area seeking to try different boba tea variations or enjoy a simple coffee break. The cafe's approach blends elements of Asian and Western cafe culture, providing a modest range of food and drink options in a comfortable setting.
Pros
Friendly and pleasant staff.
Attractive and welcoming ambiance.
A variety of unique and tasty drinks.
Good coffee options.
Appealing decor and interior design.
Offers discounts and promotions.
Cons
Some drinks, particularly boba, are overly sweet.
Limited food/snack options.
Cleanliness concerns in some areas of the café.
Service can be slow at times.
Location: 6031 N 16th St, Ste 5, Phoenix, AZ 85016
Milk Run, established in 2017, is a cafe located in the bustling area of West Camelback Road, Phoenix, Arizona. This establishment is known for its focus on handcrafted boba teas and homemade ice cream, made with high-quality ingredients.
The cafe's menu features a variety of boba teas, including popular flavors like Matcha and Taro, along with distinctive options such as Honey Lavender and Tiger boba. The boba teas at Milk Run are characterized by their soft and chewy tapioca pearls and a selection of tea bases including jasmine, green, and black tea, allowing for a customizable beverage experience.
Alongside its boba teas, Milk Run also offers a range of homemade ice cream flavors. These include traditional choices like black sesame and vanilla coffee, as well as creative combinations like Matcha Float with lychee jelly.
The interior of Milk Run provides a welcoming environment, with an emphasis on friendly and efficient service. Despite its simple exterior, the cafe often attracts a steady flow of customers, indicative of its growing popularity in the area.
Milk Run presents itself as a part of the Phoenix community, offering a spot for both boba tea enthusiasts and those looking for a casual treat in a relaxed setting. The cafe's commitment to quality ingredients and a diverse menu makes it a notable option for those in the area seeking a quick drink or dessert.
Pros
Affordable prices.
Quick and efficient service.
Friendly and welcoming staff.
Good variety of flavors and drinks.
Large drink sizes.
Attractive and clean ambiance.
Convenient location.
Cons
Inconsistent quality of boba.
Some boba and tea flavors may be considered bland or subpar.
Overly sweet drinks.
Limited seating or space.
Occasional long wait times.
Location: 1702 W Camelback Rd, Phoenix, AZ 85015
Miss Dessert in Phoenix, AZ, near 1335 W Thomas Rd, offers a variety of bubble teas, with a focus on boba. Known for their tender boba pearls, the café allows customers to personalize their drinks by adjusting sweetness and ice levels. The menu includes classic milk tea, brown sugar milk tea, and other options like lychee oolong with cream cheese top. The café also provides unique choices like milk tea with purple sticky rice.
The café's atmosphere is bright and welcoming, with ample seating and a pet-friendly policy. In addition to beverages, Miss Dessert serves desserts such as durian pancakes and mango sticky rice, emphasizing fresh ingredients.
Pros
Variety of drink options and customizable sweetness levels.
Quality of boba – consistently chewy and flavorful.
Offers unique and interesting drink flavors.
Pleasant and clean ambiance.
Friendly and quick service.
Promotions and good deals.
Cons
Use of non-dairy creamer in milk teas, which some customers may not prefer.
Some drinks are overly sweet for certain tastes.
Higher price point compared to other boba shops.
Limited drink variety.
Inconsistent dessert quality, particularly with some sago and mango desserts.
Overpowering chemical smell in the shop.
Location: 1335 W Thomas Rd, Phoenix, AZ 85013
Ti-Li Boba, situated in Glendale, Arizona, offers a variety of boba teas, attracting locals and visitors alike. The cafe focuses on bubble tea, a popular choice among its clientele.
The menu features a range of boba tea options, including the signature honey boba, known for its tapioca pearls lightly flavored with honey. This choice is particularly good because of its ability to absorb the flavors of the tea. Other unique offerings include the five-layer color bean drink and an avocado smoothie, adding a touch of creativity to the traditional bubble tea lineup.
For those seeking a more exotic taste, the cafe offers a Vietnamese iced coffee and coconut cream blend. Additionally, the mango tea, which includes rainbow jelly and mango popping boba, provides a combination of flavors and textures. The taro boba tea is another option, offering a balance of sweetness and creaminess.
The cafe's environment complements the drinking experience. It features a relaxed atmosphere with decorations such as golden butterflies and a bubble wall, creating a casual setting for customers to enjoy their beverages.
Pros
Great atmosphere and decor.
Delicious drinks with a variety of flavors.
Friendly and helpful staff.
Fresh ingredients used in drinks.
Quick service and efficient drink preparation.
Cons
Inconsistency in drink quality and taste.
Poor customer service on some occasions.
Some drinks have a bad or powdery taste.
Location: 5814 W Olive Ave, A101, Glendale, AZ 85302
Located in the Scottsdale area on Greenaway Road, Koko Boba Tea House is a cafe that specializes in boba or bubble tea. The focus here is on providing a range of boba tea options, catering to the tastes of both traditional tea enthusiasts and those seeking new flavors.
The interior of the cafe is designed to be welcoming, with a decor that adds a playful touch to the environment. This makes it a suitable spot for casual gatherings or a relaxed tea break. Koko Boba Tea House offers a menu rich in variety, primarily centered around boba tea. These teas come in several varieties, including classic milk teas and fruit teas, with options to customize the level of sweetness and choose between dairy and non-dairy milk.
In addition to the main attraction of boba teas, the cafe also serves other beverages and a selection of snacks. A key feature of their boba teas is the opportunity for customers to personalize their drinks with different toppings like traditional tapioca pearls, fruit jellies, and popping boba.
The staff at Koko Boba Tea House is known for being helpful, often guiding customers through the menu and making suggestions based on their preferences. The cafe also provides a space for leisure, equipped with games and a unique thematic decor, contributing to a laid-back atmosphere.
Pros
Friendly and helpful staff.
Tasty drinks with a variety of flavors and options, including dairy alternatives.
Clean and creatively decorated environment, often with themes like dinosaurs.
Customizable sugar and ice levels in drinks.
Offers games and a comfortable atmosphere for customers.
Fast service and good recommendations from staff.
Cons
Inconsistent quality of boba.
Location: 6339 E Greenway Rd, Ste 107, Scottsdale, AZ 85254
Situated on E 6th Street in Tempe, Arizona, The Alley offers a modern and clean setting for enjoying a variety of boba teas. Located conveniently on the ground floor of the Piedmont building, this cafe provides a space that suits both group hangouts and individual study sessions, with ample seating and a contemporary interior design.
Central to The Alley's offerings is its extensive boba tea menu. The cafe presents a range of milk and fruit teas, along with unique creations like Ube Brown Sugar Deerioca Creme Brûlée and Original Purple Rice Yogurt drink. These beverages stand out for their distinctive flavors, adding a novel touch to the local boba tea scene, particularly among the nearby Arizona State University community.
Customization is a key aspect of The Alley's service. Guests have the option to adjust ice and sugar levels in their drinks, allowing for a tailored beverage experience. The boba has a desirable texture and taste, contributing significantly to the overall quality of the drinks. In addition to boba teas, the cafe also offers yogurt and rice drinks, diversifying its menu.
The Alley combines its drink selection with a conducive environment for various activities, from casual chats to focused work. The staff is recognized for being friendly and helpful, even during busier times. This balance of a pleasant atmosphere, attentive service, and a distinctive menu makes The Alley a noteworthy destination for those in the area seeking a good cup of boba tea.
Pros
Great ambiance with a clean, modern interior.
Wide variety of unique and diverse drink options.
High-quality boba.
Customizable sweetness and ice levels in drinks.
Suitable environment for studying or working.
Quick service despite the crowd.
Friendly and helpful staff.
Cons
Confusing and difficult parking situation.
Certain drinks can be overly sweet.
Long lines and wait times during peak hours.
Limited seating availability at busy times.
Location: 707 E 6th St, Ste 165, Tempe, AZ 85281