The 10 Best Bubble Tea Spots in San Diego
Recent research indicates that San Diego has over 70 places to enjoy boba tea. While many options exist, not all boba tea spots offer the same quality.
In this article, we will explore the top 10 boba tea spots in the city. We're not limiting ourselves to traditional bubble tea shops; we'll also spotlight cafes that serve exceptional boba tea.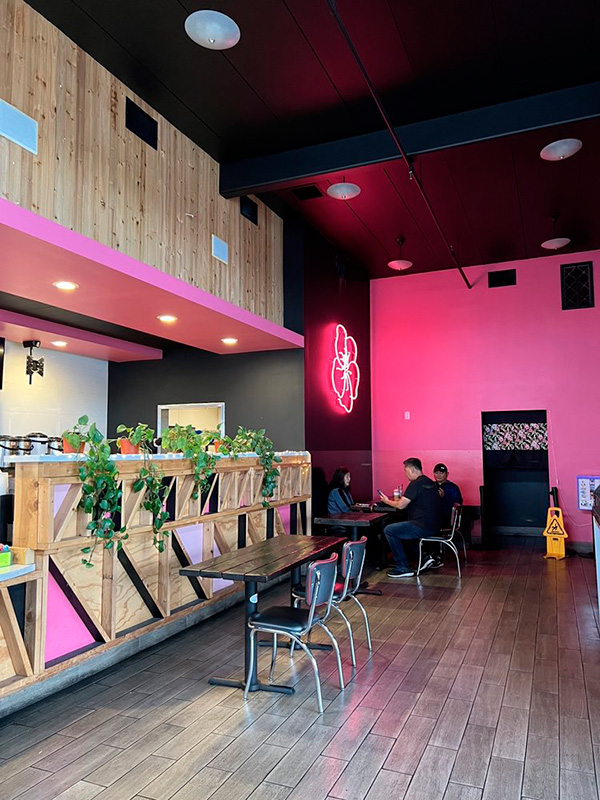 Nestled in the bustling neighborhood of Convoy in San Diego, The Korean Rose is a notable establishment, offering a unique blend of traditional and modern Korean-themed boba beverages. Renowned for its extensive menu, the cafe prioritizes its boba teas, with the signature "Korean Rose" and "Map of the Soul" standing out as popular choices. The teas, ranging from the creamy milk variants to the fruity refreshers, are complemented with soft, fresh boba pearls that have been consistently praised for their texture and taste.

For those who admire K-pop culture, The Korean Rose provides a delightful experience with its K-pop series drinks. Notable mentions include the "Candy Bong", a Twice-themed drink, and the distinctive flavors such as the "Rose Milk Tea" and the "POG" – a vibrant mix of passionfruit, orange, and guava. Although some drinks have set sweetness levels, many allow for customization, catering to varying tastes.

The ambiance of the cafe exudes subtle Korean aesthetics. While the indoor seating is limited, it's offset by the availability of ample outdoor seating. Located conveniently near the Zion Market and Taegukgi Korean BBQ, The Korean Rose benefits from easy parking and the added advantage of offering discounts to patrons of the neighboring BBQ establishment.

The attentive staff is always eager to provide recommendations and ensures prompt service. Combining authentic teas, an inviting atmosphere, and its nod to contemporary Korean culture, The Korean Rose has positioned itself as a distinguished spot in San Diego's boba tea scene.
Pros
Good drinks/boba
Friendly staff
Lots of parking
Cons
Drinks may be overly sweet for some tastes
Small interior seating
Location: 7655 Clairemont Mesa Blvd, Ste 502, San Diego, CA 92111
Tucked away on Convoy Street sits the boba cafe It's Boba Time. Having opened its doors in 2015, this unassuming spot has become a regular haunt for many locals looking to satisfy their boba craving.
Inside, the decor is youthful and energetic. Pops of color adorn the walls, and funky chairs surround wooden tables. It's an upbeat environment to chat with friends or get some work done. However, most customers come for one thing – the drinks.
It's Boba Time prides itself on an extensive menu filled with milk teas, fruit teas, slushes, and smoothies. Signature options include the Tiger Sugar Black Tea Latte, featuring a rich assam black tea layered on top of fresh whole milk and sweetened with brown sugar stripes. The Fruit Tea offers lighter choices like green tea blended with purees made from real fruit. Customers can customize their drinks with add-ons like boba, lychee jelly, or popping boba. The focus is on using quality ingredients to create well-balanced drinks.
It's Boba Time has carved out a niche in Convoy Street. Between the youthful interior, stellar drink menu, and cheerful service, it's a spot where regulars and newcomers alike can kick back and enjoy a refreshing beverage. For many in the neighborhood, it satisfies their cravings and provides a welcoming place to take a boba break.
Pros
Large variety of drinks/flavors
Boba is free with drinks
Cons
Long wait times
Parking can be difficult
Location: 4344 Convoy St, Ste A, San Diego, CA 92111
Situated in the bustling neighborhood of North Park in San Diego, Yog-art has become a staple for locals and visitors alike since its establishment in 2008. Initially, Yog-art embarked on its culinary journey by offering frozen yogurt. As time progressed, the cafe expanded its horizons to include a diverse range of drinks. Among the offerings, their bubble teas stand out, catering to both traditional and experimental palettes.

Choices such as the brown sugar boba tea with coconut milk and the Thai milk tea with custard pudding and boba offer a harmonious blend of flavors and textures. Milk tea lovers will also appreciate the distinct tastes of taro milk tea and Hokkaido milk tea. Besides the milk teas, the mango chamoy drink is also a notable option worth trying.

Yog-art's atmosphere exudes a casual ambiance, further enhanced by the provision of board games, allowing patrons to relax and engage over delightful beverages and snacks. The interior is adorned in a manner that reflects the standard aesthetics of a boba/drink shop, complemented by both indoor and outdoor seating options. While the cafe is lauded for its boba offerings, its frozen yogurt, chamango drinks, and smoothies should not be overlooked, providing a refreshing option for those looking for something different.

Whether you're searching for a cool drink on a warm day or a cozy environment to unwind, Yog-art in North Park offers a blend of both, ensuring a memorable experience.
Pros
Great variety of drinks and options on the menu
Refreshing, tasty drinks
Friendly, nice service
Cons
Location: 3026 University Ave, Ste A, San Diego, CA 92104
Located in the Fashion Valley mall in San Diego, DINGTEA is a haven for boba enthusiasts. The ambiance is both inviting and contemporary, characterized by an airy interior adorned with hanging plants and notable décor, making it a pleasant setting to relax after a day of shopping. While DINGTEA boasts an extensive and diverse menu, it's their range of boba teas that truly captures attention.

A highlight of the offering is the Creme Brûlée Monster Boba, a delectable concoction that blends the rich flavors of traditional crème brûlée with the unique texture of boba. Those seeking a fruitier flavor might be drawn to the DINGTEA Fruit Tea, which can be tailored to individual sweetness preferences. Beyond these, there's a generous selection of other teas and desserts to choose from.

The spacious setting within the cafe offers ample seating, making it conducive for a casual meet-up with friends or simply to find solace with a book in hand. The efficient service ensures that visitors receive their orders in a timely manner, and the staff displays commendable patience, especially when helping customers navigate the extensive menu.

DINGTEA in Fashion Valley is a refreshing stop for quality boba teas and more, set against a backdrop of relaxed elegance.
Pros
Delicious drinks/boba
Good customer service
Nice ambiance/decor
Cons
Location: 7007 Friars Rd, Ste 734, San Diego, CA 92108
Nestled in the bustling neighborhood of Clairemont Mesa in San Diego, the Camellia Rd Tea Bar offers a unique tea experience that sets it apart from typical boba shops. Established in 2017, the tea bar has made its mark by prioritizing quality and transparency. Their specialization is crafting Milk Teas and Tea Frescas using genuine loose-leaf teas paired with organic cane sugar.

A standout feature of Camellia Rd is its extensive menu that encompasses a variety of distinctive tea flavors. From the aromatic hojicha and the delicate jasmine to the rare pu-erh and flavorful chrysanthemum, there is a blend to satiate every palate. For those familiar with more conventional options, black tea, Thai tea, matcha, and oolong tea are also available.

Beyond the teas themselves, Camellia Rd is known for its meticulously prepared boba. The boba offers a slightly chewy consistency, providing a delightful contrast to the beverages. The establishment also ensures that there's something for everyone, with a monthly rotating selection of tea frescas and specialty drinks. Those sensitive to caffeine can find solace in their non-caffeinated options.

Inside, the ambiance of the tea bar is conducive for both relaxation and productivity. Ample tables make it a popular spot for studying, and there's also room for casual conversations. For visitors who might be looking to try something new, the friendly staff is known to offer recommendations and samples. Additionally, Camellia Rd also sells their premium loose-leaf teas for patrons to enjoy at home. Whether one is seeking a serene spot to work or simply indulge in a cup of quality tea, Camellia Rd Tea Bar proves to be a noteworthy destination in San Diego.
Pros
Strong tea flavor/high-quality tea
Chewy, sweet boba
Friendly staff
Good for studying/hanging out
Lots of seating
Cons
Can get very busy/crowded
Drinks may be overly sweet for some tastes
Location: 8199 Clairemont Mesa Blvd, Ste H, San Diego, CA 92111
Boba Bar and Desserts, situated in the bustling neighborhood of Convoy in San Diego, is a choice destination for boba and dessert aficionados. The establishment offers a diverse range of boba teas, with a selection that includes Jasmine Milk Green Tea, Earl Gray Milk Tea, Oolong Milk Tea, and other enticing flavors. For those looking to explore beyond traditional boba flavors, the Ube Brown Sugar and Taro Oreo variations come highly recommended.

The cafe's ambiance is cozy, making it a preferred spot for casual gatherings. Small tables adorn the space, coupled with an artful decor that lends a unique charm to the environment. In addition to boba teas, Boba Bar and Desserts is notable for its dessert offerings, especially its puffles – a delightful treat with a crispy exterior and a soft center. These puffles come in various flavors, with the Purple Oreo Puffle standing out as a favorite among many.

Guests can also enjoy a selection of smoothies, with the Pistachio and Lychee Dragonfruit being among the top choices. Service is typically swift, with orders taken at the counter and served once ready. For those visiting by car, parking is available in the vicinity, although it might be bustling during peak hours. Overall, Boba Bar and Desserts provides a pleasant blend of delicious beverages and desserts in a welcoming setting.
Pros
Good selection of drinks and desserts
Friendly, fast service
Delicious puffles/waffles
Cons
Parking can be difficult
Drinks can be too sweet
Boba quality inconsistent
Location: 4619 Convoy St, San Diego, CA 92111
Situated in the vibrant Convoy neighborhood of San Diego, Kung Fu Tea distinguishes itself as a premier destination for authentic boba teas. Since its inception in New York City in 2010, this establishment has expanded its reach, signifying its commitment to offering superior tea experiences.

The cafe is renowned for its expansive menu of made-to-order teas, encompassing both milk and fruit-based beverages. A highlight, undeniably, is their boba tea. The boba pearls are consistently described as having an impeccable texture—neither too hard nor too soft—and they carry a delightful hint of brown sugar. Beyond the classic boba, guests can enhance their beverages with many toppings, ranging from beans and jellies to pudding.

For those sensitive to sweetness, Kung Fu Tea considers individual preferences, allowing patrons to adjust sugar levels to their liking. Several mentions have been made of the Winter Melon Milk Green Tea, a crowd favorite, and the versatility of the cafe is evident in its other offerings, such as the non-dairy Thai milk tea and the unique sesame oolong milk tea.

The interior ambiance strikes a balance between modernity and comfort. While the seating is designed to cater to both solo visitors and groups, it's worth noting that the atmosphere can be lively at times, given the establishment's popularity. The attentive staff at Kung Fu Tea ensures that the drinks are not only of high caliber but also consistently crafted, making each visit a reliably pleasant experience. Whether you're a seasoned boba enthusiast or a curious newcomer, Kung Fu Tea in Convoy offers a taste of quality and tradition.
Pros
Great boba texture
Large drink selection
Ability to customize the sweetness
Friendly staff
Cons
Parking can be difficult
Drinks are sometimes made incorrectly
Long wait times
Location: 4869 Convoy St, San Diego, CA 92111
Established in 1992, Sharetea began its journey in Taipei, Taiwan, with the simple offerings of to-go black tea and pearl milk tea. Over time, the establishment has grown tremendously, now boasting over 450 branches across 18 countries, with 55 of these branches scattered across North America. Nestled in the Linda Vista area of San Diego, Sharetea's hallmark is its authentic Bubble Tea, crafted with high-quality ingredients sourced directly from Taiwan. Each ingredient undergoes rigorous testing to maintain freshness and consistency in every serving.

At the heart of Sharetea's menu is its extensive variety of bubble tea flavors, featuring over 50 choices along with a plethora of toppings to customize each drink. Among the favorites are the mango green milk tea, wintermelon crema, and the taro milk tea, with patrons often adjusting sweetness levels to their preference. Sharetea's commitment to variety is further emphasized through its seasonal drinks, offering visitors a new "Bubblicious" experience during each visit.

Upon stepping into Sharetea, visitors are greeted by a cozy and vibrant interior that exudes a sense of warmth and invitation. The attentive and well-informed staff play a significant role in shaping the cafe's atmosphere, ensuring each customer's queries are addressed, and drink preferences are met. With a blend of traditional Taiwanese tea culture and modern drink innovations, Sharetea is a delightful destination for both bubble tea enthusiasts and newcomers in San Diego.
Pros
Friendly, helpful staff
Good boba/pearls
Lots of tea options on the menu
Good taro milk tea
Cons
Parking can be difficult
Inconsistent sweetness levels
Drinks can taste watered down
Location: 5265 Linda Vista Rd, Ste 201, San Diego, CA 92110
Situated in the vibrant part of San Diego on Convoy Street, Happy Lemon is a testament to the timeless appeal of quality bubble teas. Established in 2006, this cafe has paved its way in the global tea market with a legacy spanning various countries, including Mainland China, Australia, and the United Kingdom.

The heart of Happy Lemon's menu revolves around their traditional bubble teas. For those with a penchant for distinctive flavors, their citrus-infused lemon teas offer a refreshing twist. One of their standout offerings is the salted cheese topping, which imparts a frothy texture, harmoniously blending sweet and salty notes. Beyond the teas, they have an assortment of bubble waffles, with options ranging from the classic to the innovative Oreo variant. The drinks' sweetness level can be customized to cater to individual tastes, ensuring that each sip aligns with one's preference.

Inside, the ambiance of Happy Lemon resonates with a calm and relaxed atmosphere, making it an ideal location to either grab a quick drink or linger for longer conversations. The staff is notably attentive, and often open to providing suggestions or samples of their various boba types. However, visitors should note that due to its popularity, there might be occasional wait times, especially during peak hours.

Overall, Happy Lemon offers a curated selection of bubble teas and treats, providing both longtime fans and newcomers with a taste of meticulously brewed beverages and a serene space in the bustling city.
Pros
Good drink options and flavors
Ability to customize sugar level and ice
Bubble waffles are tasty
Cons
Drinks can be too sweet even when ordering low sugar level
Long wait times/slow service
Parking is difficult
Location: 4633 Convoy St, Ste 107, San Diego, CA 92111
Located in the North San Diego region, specifically Mira Mesa, Tastea offers a distinctive experience for boba tea enthusiasts. Prioritizing their bubble teas, Tastea presents a diverse menu that intrigues both regular patrons and newcomers. Their boba teas, noted for their fresh and chewy pearls, range from the universally appreciated classics like Jasmine Milk Tea to inventive concoctions such as Pinaberry Chamoy and Matcha Thai Tea. A distinguishing feature is the ability to customize drinks, with the inclusion of dairy alternatives like oat milk and almond milk at no extra cost.

Fruit teas, another forte of Tastea, boast flavors like Peach Me Sweetea and Lychee Peachee, which have garnered regular orders from many. The café also introduces a unique green honey boba, which, especially during festive seasons, can shift to vibrant red and green colors.

While the beverages are the stars, Tastea hasn't neglected those looking for a cozy space. The café offers limited seating, making it an occasional hub for those wanting to unwind or get some work done, though it's worth noting that the ambiance can become lively. Consistent quality and ease of customization are the cornerstones of Tastea's offerings. For those nearby, this cafe is a thoughtful choice for a refreshing drink or a casual meet-up.
Pros
Good tea and drink options
Friendly and fast service
Convenient location and parking
Rewards program through app
Cons
Inconsistent drink quality
Small portions/not enough toppings
Long wait times
Bad/rude customer service at times
Location: 10756 Westview Pkwy, San Diego, CA 92126